Department of Biology
Since 2009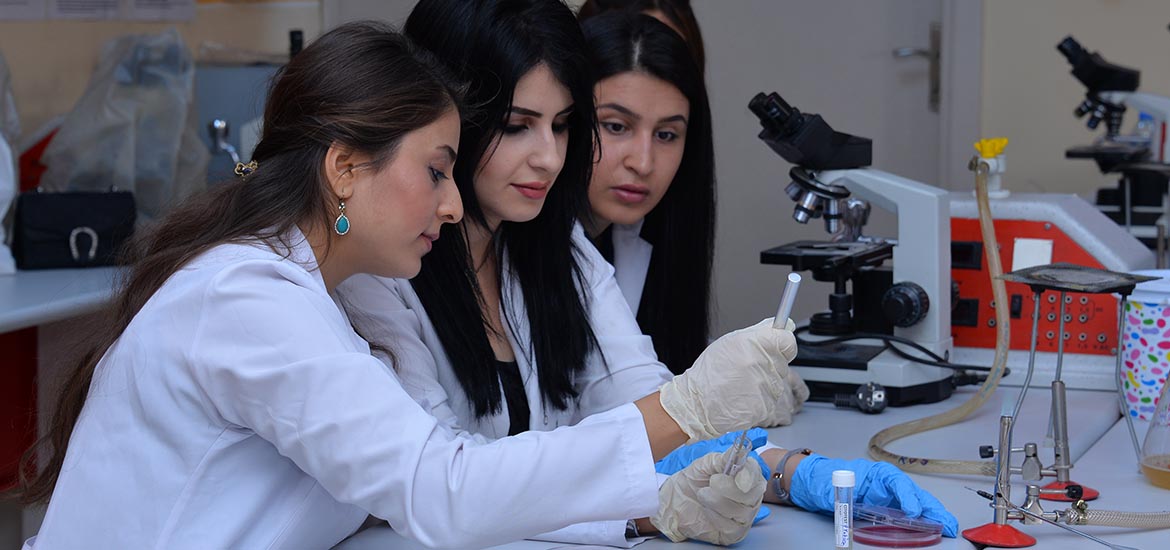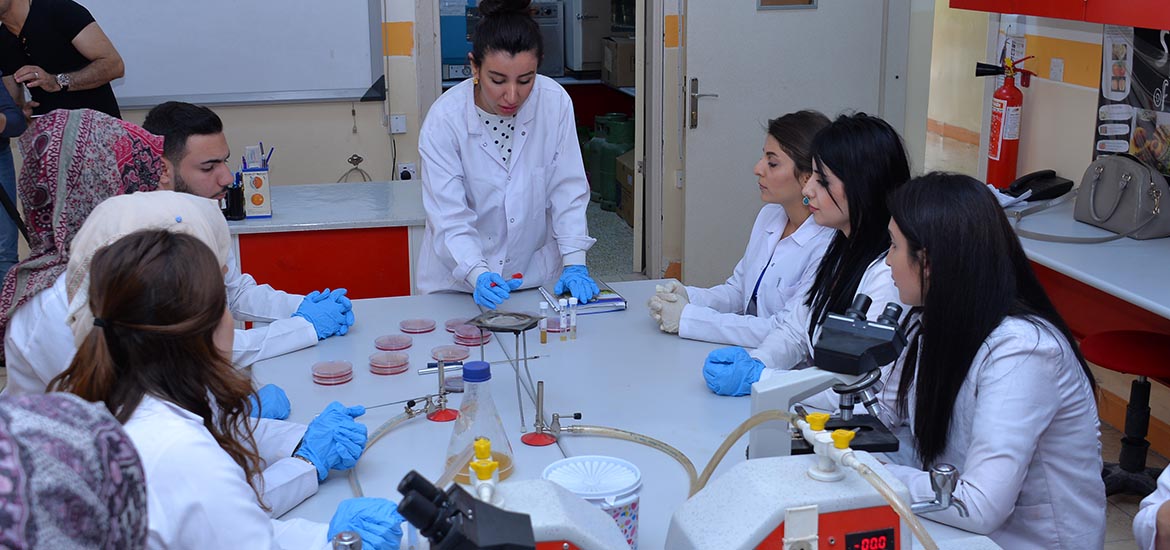 Description
The Biology Department was established and launched in the academic year 2009-2010 . The Department is a four year study that awards a Bachelor of Science in Biology. The curriculum consists of foundation courses in basic sciences and Microbiology, followed by a flexible choice of electives to meet the needs of students preparing for health professions, graduate studies and careers in research and the industrial applications of Biology. Students learn through a combination of lectures, laboratory and seminar courses. Required core courses in the sciences include all fields of Zoology and Botany, Microbiology: General Microbiology, Medical Microbiology, Chemistry: General Chemistry, Organic Chemistry, Biochemistry, Biophysics, Biostatistics and other Life Science courses: Genetics, Cell Biology, Molecular Biology, Physiology, Hematology, Tumor Biology and Antibiotics. To achieve the practical sessions of these subjects, the Department has fully equipped specialized laboratories. With a degree in Biology, graduates will be well prepared to undertake graduate studies in any of the life sciences and Biotechnology or Genetics. Graduates will be ideally suited for employment in biotechnology, pharmaceutics, medical and forensic sciences, biological research institutes, hospital laboratories, hospital supply companies, or the food industry, in addition to their ability to be teachers of Biology.
Mission
The Department of Biology is committed to educate students in the principles of biology through structured inquiry and opportunities for individualized experiential learning. It is also committed to teach them ethical behavior in experimental design and practice. The department strives to provide the best educational opportunities possible for students to attain their academic goals and to facilitate faculty in scholarship in an atmosphere that encourages free exchange of ideas.
Vision
The Department of Biology is an academic community of scientists and students responsible for and engaged in advancing the discovery, dissemination, and application of knowledge in biological sciences. Students should develop skills in communication, analysis, and critical thinking relevant to biology and other disciplines. For the future vision of the University, the department could act as a core for basic sciences for medical specializations.
Objectives
1. To advance the frontiers of knowledge through innovation and research in the biological sciences.
2. To facilitate development of scientists in the guidance of our bachelors students.
3.To increase scientific literacy, foster an appreciation of scientific inquiry, and develop well-informed citizens by providing a general education in Biology to the student population.
4. To participate in the university's wide academic community through interdisciplinary collaborations, programs and curricula.
5. To contribute to local, national, and international scientific communities through collaborations and service activities that promote education and dissemination of information.
6.To contribute to the community by collaborating with public, nonprofit, private, and industry partners.
Meet Our Team
Best Team in the Region