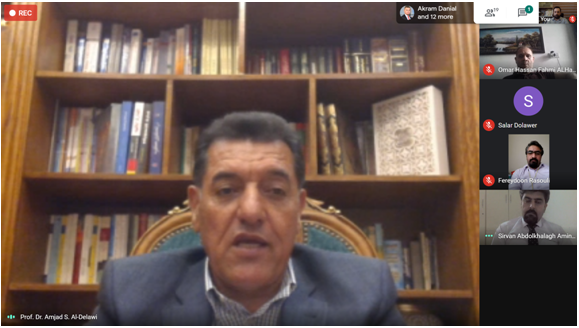 Cihan University – Erbil continues to hold its regular meeting under the preventive measures taken by the KRG
On Monday, April 6th 2020 a meeting was chaired by Dr. Amjad Saber Al-Dalawi the president of the University, with the departments of translation, English, sports as well as media.
The meeting was attended by the heads of the departments and all the teaching staff members via electronic communication technology using (Hangouts meet) program to preserve the safety of faculty members and in compliance with the preventive measures adopted in the Kurdistan Region of Iraq.
The aim of the meeting was to follow up on the work and affairs of Professors and students and the biggest thing was to show the readiness of the mentioned departments for establishing E- Learning system.
At the beginning of the meeting, Dr. Amjad stressed the importance of adhering to preventive instructions. He also emphasized the possibility of providing all technical assistance as well as technical consultations to ensure the success of the educational process. In addition to the possibility of conducting online workshops to help professors deal with and use the new system in education if the approval of the Ministry of Higher Education in the Kurdistan Region of Iraq is announced.
At the end of the meeting, the president of the University noted the importance of professors' participation in the awareness campaigns for the prevention of the Novel COVID-19through the publication of scientific and awareness-raising articles and seminars to serve the community.